I am off work until the new year, so that means lots of time to sew! I also plan to do a few boring, practical things, like shampoo the carpets and clean out the attic, but mostly I just need some time to chill after a very busy year. Now that I'm done rushing around, I starting to look forward to Christmas, too. I got my first presents already: my husband went ahead and gave me a book he'd gotten me after starting to feel unsure about whether I had already read it. (I hadn't!) And last night, we went to Anthropologie. Like many people who sew, I love Anthropologie, but I can't afford to shop there often. So, it's a special occasion treat.
We agreed that I'd shoot for about two items, and then ended up blowing the budget and buying four. However, one (black knit top with asymmetrical ruching) was a clearance item and was only $30: a steal in the land of Anthro. Two were pants, a constant need in my wardrobe since my office is so cold, and for some reason I have trouble finding pants anywhere
but
Anthropologie. Clearly I needed them both. The final item was an embellished cardigan (
"Blooms above the snow"
-- naming the clothing must be someone's full-time job). My other embellished cardigans are my favorite wardrobe items, so I just couldn't put it back either. Fortunately I have an indulgent husband!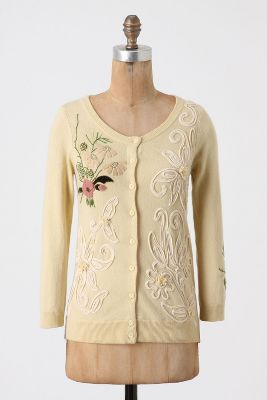 I also tried on lots of cute dresses, but the waistline of every single one hit up on my ribcage, a common dress fit issue for me. It's for the best -- they wouldn't have been good buys in terms of price-per-wear. In fact, it would have been a struggle to find places to wear the ones I liked best, which tended to be a little dressier. They do provide good sewing inspiration, though -- these two in particular: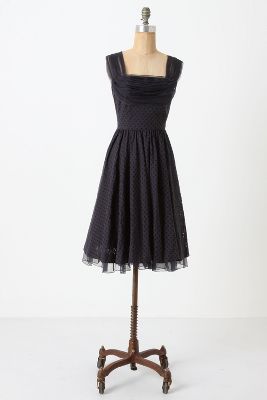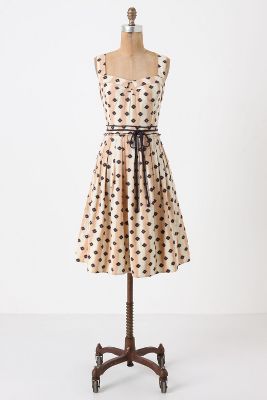 You can't see it well in the picture, but that navy dress (the
Peggy Sue dress
) is made of the most amazing basket-weave fabric! And there's a tulle under-skirt to give it some fullness. The second dress (the
De Chelly dress
) I saw featured in some magazine, and I knew even then that it wouldn't fit me (plus, I'd freeze to death in it), but I when I saw it in the store I just had to try it on. I would love to find some fabric like that: it's just gorgeous. And, it's cotton!
I have a finished
Pendrell blouse
to show you, as soon as I get some photos. I like it a lot, and am already planning to make more. I need cute tops to wear under cardigans!
*
I have a degree in cultural anthropology -- shouldn't this get me some sort of discount? :D